Sprache: de | en
Künstler und Darsteller
Info: Die Seite ist leider nur in Englisch verfügbar!
Artist and Performer - Tim Rice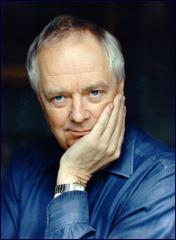 Tim Rice
Biography:
Tim Rice was born on November 10, 1944 in Amersham, Buckinghamshire. He began his professional life with the intention of being a solicitor, but very soon wound up working for EMI records under the supervision of Norrie Paramor. When Paramor left EMI to form his own company, Tim went with him. It was through Desmond Elliot (who Tim had gone to with the idea of a book about pop history) that Tim met Andrew Lloyd Webber.
The two began a collaboration that produced the work that both are best known for -- Joseph and the Amazing Technicolor Dreamcoat, Jesus Christ Superstar, and Evita. Tim later collaborated with Stephen Oliver on Blondel, Benny Andersson and Bjorn Ulvaeus (from the pop group ABBA) on Chess, and John Farrar on Heathcliff for Cliff Richard. He has also worked for Disney on projects with Alan Menken (Aladdin, Beauty and the Beast for the stage, King David) and Elton John (The Lion King, Aida). In recognition of this work in film and theatre, Tim was inducted as a Disney Legend in March 2002 at the Walt Disney Studios Park in Paris during the celebrations for the tenth anniversary of Disneyland Paris. Tim teamed up with Elton John again for the 2000 Dreamworks film The Road To El Dorado. On numerous occasions, Tim has been called upon to contribute a single song to a soundtrack for projects as diverse in theme as a James Bond movie to a song for the children¿s film Stuart Little.
In between all these musicals and films, Tim wrote many pop songs, some of which enjoyed chart success. He launched a publishing house (Pavilion Books - 1981), played cricket, wrote about cricket, and started the Guinness Hit Singles series on pop with Paul Gambaccini, Mike Read, and his brother Jo Rice. His passion for pop music not only had him appearing on many quiz shows about pop music, but won him the title "Rock Brain of the Universe" in 1985. Tim also found the time to appear in a movie, have a stint on the Board of Directors of Andrew Lloyd Webber's Really Useful Group, do radio programmes on pop music (including subbing for Mike Aspel on Capital Radio in May of 1978), translate the French musical Starmania into its English format Tycoon, participate in concerts of his work (including an extensive tour of Australia in 2000), and serve on a mind-boggling number of committees for music and sport.
Tim's autobiography covering his life and career until circa the opening of Evita in London was first published in England in 1999. His work has won him numerous awards including 12 Ivor Novello awards, 4 Tonys, and 3 Oscars. Tim was inducted into the Songwriters Hall of Fame in 1999. During the Broadway run of the Jesus Christ Superstar revival in 2000, he had a total of four shows playing simultaneously on the Great White Way. Tim was knighted in 1994.