Language: en | de
Artist and Performer
Artist and Performer - Hans Zimmer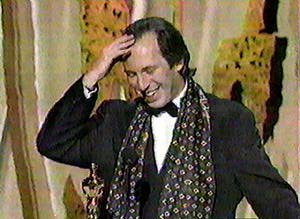 Hans Zimmer accept his Oscar 1994 for TLK
Biography:
Hans Florian Zimmer was born on September 12, 1957 in Frankfurt am Main. He is a pioneer in the use of digital synthesizers, advanced computer technology, electronic keyboards and their successful integration with the traditional orchestra in music for film and television.
Moving to London, Hans began composing jingles for "Air Edel Associates" and teamed up with Trevor Horn and Geoff Downes as "The Buggles" to produce the worldwide hit, "Video Killed the Radio Star" and subsequent album "The Age of Plastic". By 1980 Hans was pioneering the use of computers live on stage while working with the group Ultravox. Then he enjoyed a period of stardom in Italy with the avant garde band "Krisma", before returning to London to develop his next project with Warren Cann of Ultravox, culminating in a series of unique concerts at the London Planetarium.
It was shortly after this that Hans met and began working with the film composer Stanely Myers. Realizing the importance of incorporating the two musical forms, electronic and classical, they set up "Lillie Yard Studio" in London with the very latest state of the art musical technology.
Zimmer continued to work out of "Lille Yard Studio" as his partnership with Myers strengthened. They worked very successfully on Jerzy Skolimovshi's "Moonlighting", "Success Is The Best Revenge" and "The Lightship"; Nicholas Roeg's "Insignificance" and "The Castaway". They then went on the compose the music for the box office hit "My Beautiful Launderette" (Best Picture Evening Standard Awards).
In 1986 he worked solo on Working Title's "Vardo" and he then went on to work with Ryuichi Sakamoto, and David Byrne, to produce the soundtrack for the award winning epic "The Last Emperor". This was followed by another teaming with Stanely Myers for the score of "Nature and the Beast". He then wrote scores for Philip Saville's Wonderland", and "Paperhouse" for director Bernard Rose at Working Title. Then for Vestron he composed the music for the Faye Dunaway, Klaus Maria Brandauer feature "Burning Secret".
In 1988 he was asked to compose the music for a small budget, ground breaking film about South Africa, "A World Apart". Based on a true story, this film was not just a coming of age of the voice of the struggle, but a turning point in Hans's career. As a result he was asked to write the Oscar nominated score for the box office smash "Rainman".
Through 1989 Hans scored Ridley Scott's "Blackrain" and then his third Oscar contender, "Driving Miss Daisy". He followed this with the score for the Universal release "Bird on a Wire", Paramount's race car drama "Days of Thunder" starring Tom Cruise, Fox's thriller "Pacific Heights", allowing Hans to work with Oscar winning director John Schlesinger.
In 1991 Hans completed the scores for Peter Weir's "GreenCard" (Golden Globe Best Comedy), Ridley Scott's Thelma & Louise", Ron Howards fireman epic, "Backdraft", Richard Donner's film "Radio Flyer", and Franc Roddman's mountaineering thriller, "K-2".
1992 began with Hans working on his second south African film, "The Power of One" for director John Avildsen. The epic scope of this movie allowed Hans a unique opportunity to write both songs and music with a South African lyricist to create haunting tribal anthems to support the historic struggle of the film.
Hans then went to work with Penny Marshall on "A League of Their Own" about the first all woman baseball league, starring, Geena Davis, Tom Hanks and Madonna.
Hans finished up 1992 working with Barry Levingson on "Toys" starring Robin Williams.
1993 started with scoring the American version on "LA Femme Nikita" and "Point of No Return" starring Bridget Fonda. This was Hans's second collaboration with director John Badham. Hans then worked with director Percy Adlon of his film "Younger and Younger", reteamed with executive producer Penny Marshall for "Calendar Girl" and also with Tony Scott, who directed "Days of Thunder" for the Quentin Tarentino story of "True Romance". Presently Hans' score for the Disney surprise hit "Cool Runnings" is doing blistering business at both the box office and in the charts. Hans' latest release is the criticaly acclaimed "I'll Do Anything" written and directed by James L. Brooks, starring Nick Nolte. Hans also composed the original score to Bille Augusts "House of The Spirits" which is doing amazing buisiness in Europe. Recent efforts have included such films as "Nine Months" and "Crimson Tide."