Artist and Performer - Jeremy Irons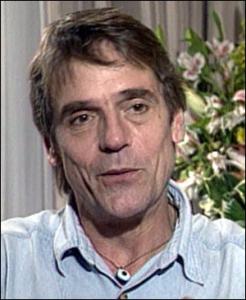 Jeremy Irons
Biography:
Jeremy Irons was born on September 19, 1948 in Cowews (on The Isle of Wight), England. His mother is Barbara Anne (Sharpe) Irons, and his father, Paul Dugan Irons, was an accountant. When he was just a boy of seven, he was sent off to the first of a series of rigid English boarding schools. The cruel practice of sending so young children away to school was traditional for upper-middle-class English lads of his generation. His love of animals and country life fueled his desire to become a veterinarian, but his poor academic performance in the physical sciences forced him to consider other options. After his graduation from the Sherborne School in 1965, he exchanged his upper-middle-class surroundings for a tough neighborhood in South London, where he became a social worker. It was when he started to supplement his social worker's salary by moonlighting as a busker that he found his true calling. He joined Bristol Old Vic repertory company where he gained much experience working in everything from Shakespeare to contemporary dramas.
He moved to London in 1971 and had a number of odd jobs before landing the role of John the Baptist in the hit musical Godspell. He went on to a succesfull early career in the West End theatre and on TV. His work in the West End and at Stratford culminated with his performance of Richard III for the Royal Shakespeare Company. He married actress Sinead Cusack in 1978 and they have two children, Sam and Max. His first film role was a forgettable one in Herbert Ross failure "Nijinsky" (1980). However Irons didn't have to wait long until BBC offered him a starring role in the TV serial adaption of Evelyn Waugh's "Brideshead Revisited". In it Irons plays Charles Ryder, an aristocrate who sees his world fall together before his very eyes. This film gave Irons much attention in the US, and he quickly become a popular romantic leading man. He went on to a steady film-career.
He started off opposite Meryl Streep in the expensive misfire "The French Lieutenant's Woman" (1981), but showed his range by playing a lonely Polish blue collar worker who gets stranded in England during his home country's political chaos in "Moonlighting" (1982). This is one of Irons finest hours on the big screen - a sensitive and humorous portrayal. In 1984 he made his Broadway debut in Tom Stoppard's "The Real Thing" opposite Glenn Close, for which he won both the Drama League Award and the Tony Award for best actor. In the mid 80's he and his wife appeared in three lead roles with the Royal Shakespeare Company. At this juncture, the public started to catch up with what film buffs and critics had known for years: This classically trained, gauntfaced British actor is one of the best actors alive. Irons specialized in playing haunted upper-class types, frequently in period roles, and achieved star status without compromising his reputation as a serious actor.
His greatest triumphs have been in delineating the darker side of such types. In David Cronenberg's thought-provoking, chilly thriller "Dead Ringers" he portrayed two twin gynecologists who slowly but surely drifts into psychological illness. This won him the New York Critics Best Actor Award. He then gave a self-mocking performance as suspected killer Klaus von Bulow in "Reversal of Fortune", bagging a Best Actor Academy Award. In 1991 he rejected the main character roles for "Interview With A Vampire" and "The Silence of the Lambs". Instead he played a paranoid insurance clerk in Steven Soderbergh's psychological thriller "Kafka" (1991), appeared together with his wife as a history teacher plagued by childhood memories in Waterland (1992) and a conservative English politician who has a very unhealthy affair with his son's girlfriend in Damage (1992). In his second film with both Streep and Close, the epic, heavy-handed "The House of the Spirits" (1993), he was way off the road playing a hispanic aristocrate. He then provided the delightfully sinister voice of Scar in Disney's "The Lion King" (1994).
When he is not working Jeremy enjoys motorcycling and horseback riding. He is also working on renovating a 16th century ruined castle in Ireland. Up to this point it seemed that Irons life or choice of roles was unaffected by his career. His personal life is seldom a topic for the media. In 1995 he swallowed his pride and made an attempt to cross-over to more mainstream fare as the dyed-blond antagonist to Bruce Willis in "Die Hard With A Vengeance" which met with mixed results. Irons next two roles were schematically linked: in Bernardo Bertolucci's "Stealing Beauty" (1996) he was an ailing writer who is reinvigorated when confronted with the voluptuous teenaged Liv Tyler, while in Adrian Lyne's remake of "Lolita" (1997), he was Humbert Humbert, enamored of the pubescent title character.