Language: en | de
The Lion King 1 ½
Artist and Performer - Whoopi Goldberg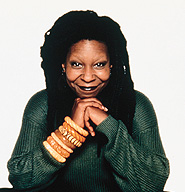 Whoopi Goldberg
Biography:
Whoopi Goldberg was born as Caryn Elaine Johnson on November 13, 1955. Her versatile stand-up comedienne and performance artist gained the attention of Hollywood with her eponymous show of character sketches. With her trademark dreadlocks, gravelly voice and blunt, hip yet compassionate style, Goldberg was unconventional star material to be sure, and the ups and downs of her career clearly represent the attempts of producers to smooth over what they consider to be her "rough edges". She made an auspicious feature debut with an atypically subdued but very moving performance in Steven Spielberg's controversial "The Color Purple" (1985), but subsequently her energetic presence was underutilized in a series of mostly uninspired vehicles (e.g., "Burglar" and "Fatal Beauty", both 1987) until her Oscar-winning performance as a fake psychic medium in the 1990 boxoffice hit,"Ghost". 5Things were not all bad for this unique actress during the second half of the 80s before "Ghost"; "Jumping Jack Flash" (1986) and "Clara's Heart" (1988) have their fair share of ardent admirers. Goldberg became a seemingly ubiquitous presence on TV, racking up over 80 appearances in specials (most notably "Comic Relief" and its follow-ups), several memorable guest spots (an Emmy-nominated turn on "Moonlighting", "Dolly", "A Different World") in addition to a stint with "Bagdad Cafe", a short-lived comedy series co-starring Jean Stapleton.
Goldberg also played a likable if rather modest recurring role as Guinan, the enigmatic alien bartender, on the hit syndicated series "Star Trek: The Next Generation" (1988-94).
She reprised the role in the feature "Star Trek: Generations" (1994) Goldberg has also produced several special for cable and syndication. 5Her feature career enlivened by "Ghost", Goldberg went on to a dignified dramatic role in the pre-civil rights 50s era film,"The Long Walk Home" (1990), and a comic part in "Soapdish" (1991) before starring in the surprise blockbuster comedy of 1992, "Sister Act", which grossed more than $300 million worldwide. She ended 1992 with a strong supporting role in Robert Altman's "The Player" and the lead in "Sarafina!". Goldberg also began hosting her own late night one-on-one chat show, "The Whoopi Goldberg Show" (syndicated, 1992-93).
Low-key and informal, the show featured major stars but Goldberg was more of a gushy friend than a probing interviewer, and lackluster ratings led to a quick cancellation. She returned to films with "Made in America" (1993), a comedy co-starring Ted Danson, and the inevitable sequel, "Sister Act 2: Back in the Habit" (also 1993). 5Far from making her difficult to cast, Goldberg's unusual and considerable talents and her earthy, straightforward persona have kept her extremely busy, from hosting two Academy Awards ceremonies to performing in the low-key romance "Corinna, Corinna" (1994) or playing a lesbian in the road film,"Boys on the Side" (1995). Also she provided the voice Shenzi the hyena in "The Lion King" (1994) She was all-but-inescapable in 1996 starring in the passable comedy "Eddie", as an ardent basketball fan who wins the chance to coach her favorite team; the whimsical misfire "Bogus", about an orphaned boy who creates an imaginary friend to help him cope with his mother's death; "The Associate", a remake of a 1979 French/West German comedy, as an investment banker who furthers her career by employing male drag and "whiteface" to personify a fictional white male CEO; and Rob Reiner's "Ghosts of Missippi", a return to Civil Rights era drama, as Myrlie Evers-Williams, the wife of slain NAACP officer Medgar Evers.